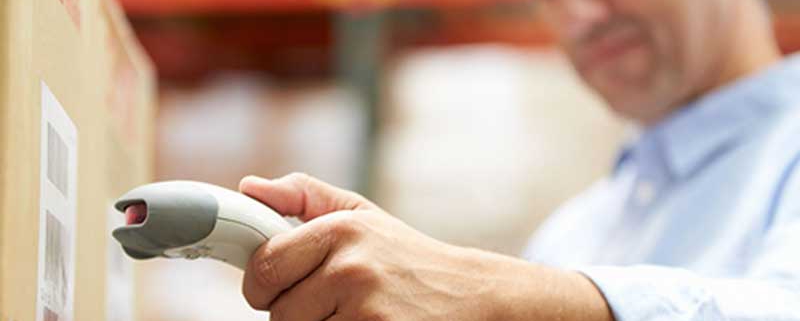 Ever thought about a barcoding system? In any business environment it is always a smart move to look for ways to reduce cost in order to keep profits as strong as possible. In tough times many businesses look at reducing things like employee head count, advertising and marketing, but these solutions can sometimes have a negative effect on the business. Often, better inventory control is overlooked when examining ways to reduce cost. One way to have better control of inventory is by using a good barcoding system.
What is a Barcoding System?
Over the last decade or so, barcodes have become commonplace on almost all goods. The vertical bars forming what looks like some random pattern actually can tell quite a bit about the item if used with the right system.
The typical barcoding system will consist of a computer housing the inventory barcoding software a printer and a barcode reader. The barcoding software will allow the company to set up all its items in the system and will keep track of the scanned inventory. The printer will be used for printing custom barcode that convey the information required by the warehouse managers and the scanner will be the means of quickly keeping track of the inventory without having to manually write down information every time inventory is received, sold or relocated.
If used properly, a bar code can tell a company among other things:
The item's origin
Weight
Color
Quantity in stock
Location in the warehouse
Age
Size
The information is only limited by the system used and information input about the product into the system.
Read Also: The Next Generation of Warehouse Management
How to proceed?
Once you have decided to move forward with a barcoding system there are a few steps that are needed. First, decide on a system. There are many barcoding systems and some have more features than others. Features vary widely and your choice really depends on how much information you want to have about each product.
Once you know what type of system you are going with, then you can begin with the set up. There will be a bit of work on the front end of the project but if you allocate the time and do a thorough set up the return on the investment of time and money will happen quickly.
Here are a few of the things you will need to do:
Develop a list of the items that you should have in your warehouse
Decide what information you want to track with your barcodes
Print and place barcode on your inventory
If you plan to track location as well, print and place barcodes on your shelves
Complete a physical count of the inventory in your warehouse and get those actual numbers in your system.
Once you go live with your new system, there are a few things you can do to keep your inventory in check.
Always scan items when they are being shipped or just moved to a different location in the warehouse
Never add inventory to the warehouse that isn't scanned first
Make sure you have someone or team in charge of inventory and inventory procedure control
Make sure everything has a barcode label
Spot check inventory on a frequent basis and compare with printed reports
Analyze reports frequently to make sure you are not over stocking but that you do have adequate levels of each item on hand
How does this save money?
There are many ways that better inventory control can help save money and add to profitability. Some examples are:
Freeing up cash by eliminating non-moving stock
Reducing inventory carrying cost
Identifying stock that is in high demand to maintain better quantities of that item
Reduce or eliminate rush and drop ship charges due to out of stock items
Avoiding inventory mistakes caused by manual entry
Better customer support by immediately knowing what you have on hand
Using a well-designed barcoding system for inventory control is one of the best and most cost effective ways to help your company run efficiently. With thousands of manufacturers and industrials, you will create a next generation of wireless warehouse that save money and add dollars to the bottom line.
To learn more about ABIS Barcoding Software Contact Us
https://www.abiscorp.com/wp-content/uploads/2021/08/Save-Thousands-Using-Barcoding-for-Better-Inventory-Control.jpg
533
800
Derrick Schulte
http://www.abiscorp.com/wp-content/uploads/2022/12/ABIS-40-year-logo-FINAL-signature.png
Derrick Schulte
2021-08-20 15:51:58
2021-08-20 16:00:42
Save Thousands Using Barcoding for Better Inventory Control