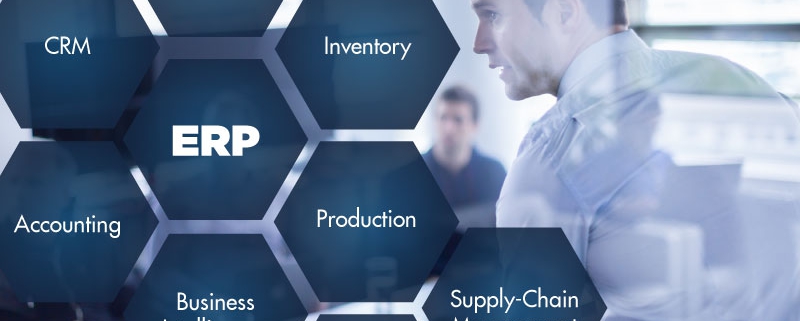 It's one thing to have a prosperous business.
It's another to have a profitable business that keeps growing—on autopilot.
Sound too good to be true?
Fantasy?
It's not.
Enterprise Resource Planning (ERP) software equips you with the tools to thrive.
ERP software is a business management system that integrates your business's core processes.
The software monitors these processes in real-time through one central hub.
From here you can collect, store, manage, and interpret your data with confidence.
There are three types of ERP software:
Cloud ERP
Software as a Service (SaaS) that allows businesses to access ERP software on the Internet.
Key points:
No upfront costs for infrastructure
Support provided by data center
Monthly fee instead of upfront costs for software
Vendor handles the updates and upgrades of the software
Only pay for what you need
Installation on hardware, servers, or user devices not required
Adjust your cloud storage as needed
Data automatically backed up
Reduced cyber attack threats on company servers
Access from anywhere in the world
Not as field tested as On-premise Tier 1 ERP software
Less potential functionality options
Some business processes may not be supported
On-premise ERP
Identical to Cloud ERP, but installed locally on your hardware and servers.
Key points:
Managed by your IT staff
Large upfront costs to purchase, invest, and manage the software
May require additional personnel
You make the necessary updates and upgrades
On-site customization (not easy to implement and wipe out old versions upon upgrade)
More susceptible to cyber attacks
Not accessible remotely without added features
Requires more time to procure and install
Hybrid ERP
On-premise and Cloud ERP combined.
Key points:
Lower implementation costs than normal On-premise ERP
On-premise functionality
Agile applications through the Cloud
Less risk due to On-premise trusted history and foundation
Limit functionality with Cloud ERP on specific applications—as needed
"This all sounds good, but why would I need it? I already have systems that do all of this. How would this benefit me to get another one?"
Legitimate questions.
Let's start with the first one.
Why your business should use an ERP system.
Even the most thriving businesses can become more efficient.
But getting there is much easier than you might think.
Ask yourself these questions:
How is your data?
Is it accurate?
Is it missing?
Can you reach it in an attainable format that's easy to interpret and share?
Does your data tell the true story?
Does it accurately depict how well your business is performing?
Or is it lopsided and lacking?
Is your data efficient?
Do you have to input the same data multiple times?
What about errors?
How many errors have your found costing you valuable time, money, and resources?
Has your productivity gone down?
Does it fail to get better?
Have you fired someone or moved around departments only to discover you have the same problem? Only, it's worse now.
What other software do you currently use?
How many do you have?
Do you have a different software package for each of your departments?
Which ones do what they promise?
Which ones hinder you more than they help?
Are you tired of fiddling with several softwares and wish you could do it all at once?
Can you integrate them with each other?
What about your access to this information?
How easy is it to find what you're looking for?
Do you have to navigate through several softwares just to find what you want?
How much time have you wasted doing this?
How many times have you given up?
Has information been lost?
Is your accounting rock solid?
Does your accounting require multiple data entry points?
How many times must you enter the same thing over and over again?
Ever wonder why your accounting department takes so long to complete a request?
Is your accounting holding you back?
Are your sales increasing, dying, or stagnant?
Do you use a different software for sales, production, shipment, and accounting?
How is that working for you? Is it working?
How are your customer relations? Good? Bad? Indifferent?
Do your employees feel disconnected between departments?
Does the necessary information reach the right ears?
Or is it lost and jumbled up?
Any missed opportunities?
Is your business growing?
You've reached your goals but now want to go higher.
You want to expand into other fields or locations.
You require a larger office space or more employees.
You require additional applications.
Or, you want all of these things.
Are you efficient?
Are you meeting your year goals and exceeding them?
Are you finishing projects in less the time?
Do you lose valuable data?
Are certain processes taking longer than they should?
Is there a standard holdup in one (or more) areas of your business?
You're losing money from time.
Want to reduce your costs?
You're spending more than you're bringing in.
Some departments require more oversight or funding.
You had to lay off employees to mitigate costs.
You've postponed future goals, plans, and tasks due to low budgeting.
You have big plans but need more funds to do them but lack the increased sales to do it.
Merging with another company?
You're thriving or barely getting by and need help.
Your overhead is suffocating you.
Your business is being overshadowed by a larger corporation.
You can't seem to get off your feet and break through the glass ceiling.
You're contemplating selling your shares to survive or reach higher goals.
Partnering looks more promising than staying on your own.
Not enough time (too busy)?
You have too many ideas and not enough time to do them.
Your processes are constantly delayed or postponed.
Interdepartmental interaction is compromised or malfunctioned.
What should take one day takes a week or longer.
You don't know if you'll ever finish or reach your goal.
If you've answered yes to any of these questions or had to ponder it for longer than five seconds, then you need an ERP system (or a better one).
Why?
Because all these questions revolve around the same problem: can your business become more efficient or not?
SPOILER ALERT: your business CAN become more efficient.
Look at companies like Toyota, a world reference in terms of efficiency. They apply Kaizan and Lean principles to realize millions – MILLIONS – of improvements every year. Those efficiency gains sometimes only apply to a fraction of second on a process.
But one fraction of second on a process you repeat hundreds of thousands of times every year will greatly improve your bottom line.
If one of the most efficient companies on the planet can become more and more productive every year, you can too.
And at the end of the day, this is what ERP software are about: efficiency and better margins.
The history of ERP systems
ERP software evolved from Material Requirements Planning (MRP), which handled planning and scheduling of materials.
MRP developed in the 1960's from the need to manage demand and orders.
It did not take into account timing, but only the demand (need).
MRP II was developed in the 1970's to supply both demand and time in the planning process.
ERP originated from these earlier MRP II systems to handle account management and financial applications.
This enabled businesses to manage their inventory, cash, and employee (or customer) resources.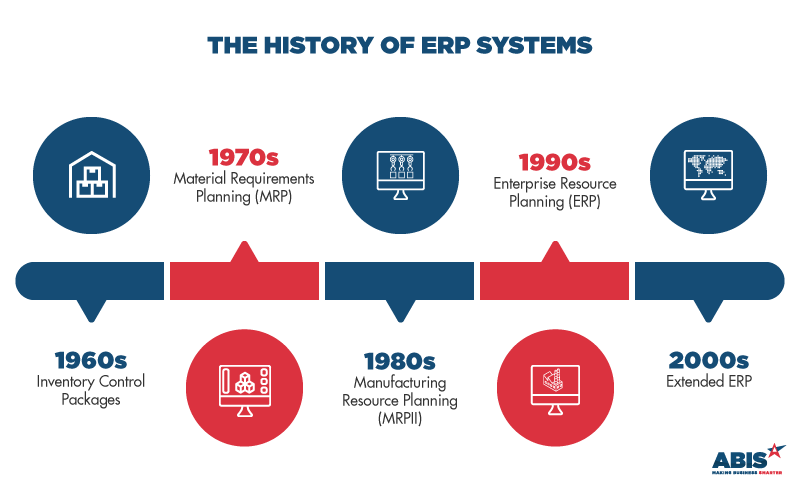 Over the last fifty years, companies like JD Edwards, Baan, Oracle, IBM, PeopleSoft, Infor, Microsoft, and Sage (along with other companies that were consolidated together) evolved ERP into what it is today.
It continues to adjust to the market and the need of businesses.
What part of your business will benefit from an ERP?
If you are a Manufacturer (you don't need to be in order to benefit from an ERP), what you produce and sell is the most vital aspect of your business.
Without it you wouldn't have have a business.
So how do you increase your production, while also increasing your demand?
According to MMS Online, you do this by optimizing your processes, improving tracking, reducing errors and costs, boosting productivity, and centralizing your information while making better decisions.
An ERP's production and project management modules automates your manufacturing and assembly.
The best ERP also fully integrate it with all of other modules so you have a full-scale automation sequence.
Production work orders outline the requirements, based on a Bill of Materials. As you already know I'm sure, a Bill of Materials (BOM) is an "extensive list of raw materials, components, and assemblies required to construct, manufacture, or repair a product or service."
Here is an example of a Bill of Materials:
ERP systems understand all that information and can they track it from inventory before allocating it to a job.
The ERP will often then execute a Route automatically and schedule tasks that production personnel and managers can see.
Once complete, the item becomes its own inventory that you can track throughout its whole life cycle.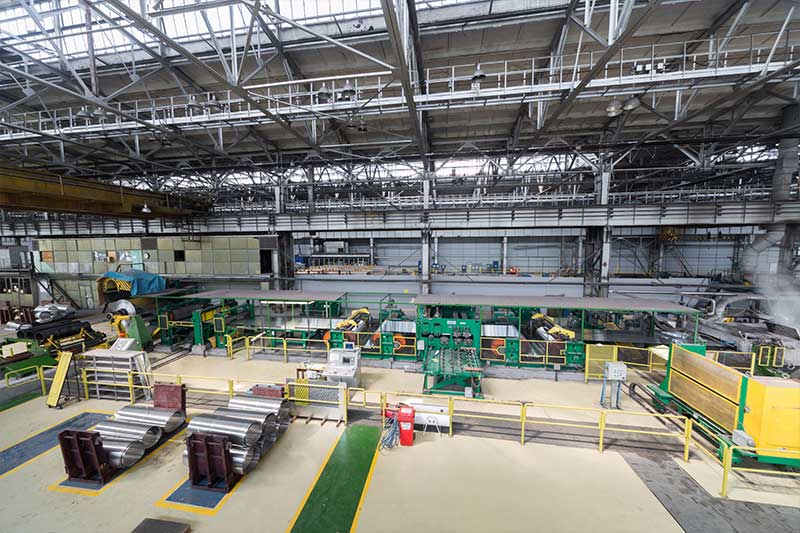 A Project Management module allows you to marry a multi-functional and flexible tool with the production module that allows you to set budgets for every phase of your production.
Now you're able to monitor the associated labor, materials, subcontracts, general expenses, and overhead costs with an easy-to-use layout.
Not only this, but you can track everything! Tasks, shipping events, linked orders, material usage, buyouts? You got it all!
Having the ability to acquire goods or services, and agree to appropriate terms is vital to continued growth.
Matt Michell, Purchasing Manager at CO Building Systems, explains how an ERP software with forecasting capabilities allowed him to get better pricing and buying power.
It's a competitive market and it's key to have the ability to anticipate your needs to make larger purchase and save your company money in the long run.
Matt Mitchell' situation will probably resonate with many purchasing managers out there:
"our business is way too competitive to buy on an as-needed basis".
This is why you need a powerful analytical tool to drill down into what your material consumption over the past year, and break it down quarterly or monthly to make accurate predictions about your future needs.
Since everything in an ERP is tied up together, having visibility into your the jobs scheduled is also critical.
As we saw in the Production section, your ERP facilitates the scheduling and management of your production workflow environment.
It'll manage and execute your predetermined schedule and then automatically update the list of items produced as well as your inventory levels.
This allows you to receive accurate labor or material projections since they are updated in real-time 24/7/365.
If you like to have control over every moving part of your company but hate the hassle that comes with it, then the scheduling portion of an ERP is perfect for you.
It lets you assign people, organizations, rooms, assets, and pieces of equipment as resources with the click of a button.
You can even constrain assignments and scheduling based on specific skill sets if you'd like.
Need to inform certain resources of an availability change?
How does automatically sound? You heard that right!
Auto Alerts will notify your entire company or specific departments of a change without you needing to worry or do a single thing.
If anything changes regarding the work order #5753843 for example, every person involved with that part of the project will be emailed. See below:
But scheduling and acquiring isn't everything.
What about tracking?
The Time and Material module simplifies that for you.
Enter labor, equipment, and materials on a case-by-case basis and know that your pricing will reflect the current market.
Procurement doesn't need to be a hassle or a dead weight.
An ERP software is all about efficiency and accuracy.
Select your parameters and let them run on their own.
Tweak and add when needed as your business grows.
Almost as vital as procurement, production, and sales is distribution.
How you provide your services or get your product from Point A to Point B is another key component to thriving.
It's not just about getting it there. But how quickly and efficiently.
One factor that plays a large role in global trade is sales tax.
Our sales automation will update shipping locations with the appropriate and most up-to-date tax rate automatically.
You can customize your tax table with nine unique levels.
Instead of taking days or weeks, you can now initiate and produce a report in seconds and have the peace of mind that it's correct and updated.
Delivery and schedule is also important.
An order may come in but how long will it take you to get it to the customer?
In our day and age, faster is better.
Shop Floor Control grants you omniscient visibility to new orders & change orders and how they'll affect your shop load.
Being able to optimize which jobs run on what machines eliminates barriers to shipping on time.
You'll gain access to your shop floor activity and its current capacity before committing to a schedule.
This video will tell you more about how this works in Adjutant, ABIS' ERP software:
Identify potential pitfalls on your shop floor before production starts and know every variable in production status, cost, and shipping schedules.
With Logistics, you can view and track all shipments.
Have multiple orders?
Consolidate them into one single shipment and schedule other orders in new shipments.
You can also schedule interplant transfers on a recurring loop. Hint: You can create and link your Bills of Lading directly from your shipments.
The money maker.
Sales is all about knowing your customer.
And giving them what they want.
A Customer Relationship Management (CRM) streamlines processes between the Sales, Marketing, and Service departments with complete customer profiles.
By building customer relations, you decrease operating costs.
A buying customer today is a buyer tomorrow. You want to ensure you keep track of who your buyers are.
Automating your sales process is simple.
In fact, it's so easy you could have it up and running just by implementing the following:
Contract
Account
Opportunity management for forecasting
Territory management
Pipeline management
These tools shorten the sales cycle by granting your business access to pertinent customer data.
Work smarter, not harder.
Sales automation also allows supervisors to monitor how their sales teams are performing in real-time.
Bonus: By automating your campaign design management, email marketing, and lead assignment & management, you'll increase marketing programs effectiveness AND capture vital customer, lead source, and demographic information that marries over with your sales cycle.
Automating sales orders is also a fun feature!
Load Management provides you with order statistics and gives you sales orders automatically and which trucks they're assigned to.
You can display orders and create load sheets with these route designators.
There's so much optimization at your fingertips with an ERP software!
Keep your technicians synced with workflow management, accurate costs projections, asset tracking, eliminate redundancy, enable mobile deployment with real-time data dispersion, and a single-point of entry for all departments, including accounting.
Here are 7 ways an ERP can improve the productivity of a water utilities company.
And here are the modules you should look for in an ERP software if you are a service or water utilities company:
Document Imaging & Image Vault
Access all documents and images in one central location.
You'll no longer waste time rummaging through archives only to not find what you're looking for or give up in the process.
Share all customer records for past or current purchase orders to your teams—instantly.
Empower your accounting department with more than just supervising expenses and monitoring cash flow.
Consolidate everything—analysis of purchase patterns, profitability ratios monitoring, and balanced accounting—in one location.
The Tapping & Inspections module was designed specifically with operators for water districts in mind.
Track permits and taps fees and schedule inspections with one click.
You'll never have to worry if your crew is certified and whether their work orders are being filled in a timely manner.
All communication is streamlined through one central location from field workers to the office.
Control your workflow with automation.
Issue and assign work orders, while providing immediate in-house and field performance reports.
Gain flexibility to schedule anything from preventive maintenance to routing work orders.
Geographic Information System (GIS) Integration
GIS is just a fancy name for enabling users to manage and share field data in real-time.
All field works can now add and update their locations on the integrated map.
Put the control back in your field with routing and workflow optimization.
Provide detailed tracking of all of your assets and serialized items.
You can automatically create an asset in the tracking system and have it designate its location, serial number, and receipt date.
Authorized users can update asset information anytime.
Centralize information, reduce costs, improve tracking, make better decisions, and optimize process your processes through your accounting.
There are multiple ways an ERP allows you to maximize your resources with each department.
Accounting is one of the most important teams your business contains.
From accurate reporting to filing taxes to collecting data, accounting is the pulse of your company.
We understand the importance of accurate accounting and that's why we provide you with an all-inclusive suite of modules to assist you.
Our Data Import & Export module facilitates any data transfer to and from your system.
Want to bring in data from another software?
No problem!
We'll carry over any pertinent information during initial setup to establish chart of accounts codes, vendors, and beginning balances.
In addition, you have the option to import data on a recurring basis.
We created this module specifically for project-oriented industries and manufacturers.
This module gives you powerful management reporting, detailed accounting capabilities, and total control.
In today's competitive market, with profit margins getting tighter, the Job Cost module is an essential management tool for keeping a close eye on the job profitability.
Some features you gain from the Job Cost module:
Ability to track cost revenue information for every project (to the smallest of details)
Features included to streamline the process.
Minute-by-minute status updates for bid proposals and projects.
You can integrate Accounts Receivable, Accounts Payable, Time Clocks, Inventory Management, Sales Order, Purchase Order, and General Ledger to ensure corporate information access.
Having access to information from any part of your business is vital to an efficient system.
Auto Alerts keep your staff up-to-date of daily changes in business.
How to implement an ERP into your business
Having the right ERP software partner is even more crucial to your business's success than the actual implementation of the software itself.
While there are many ERP software systems in the market, not all of them are equal.
One may give you some of what you need while another may give you too much.
It's key to find a balance.
That's why working with a trusted consulting company is paramount to finding, selecting, and implementing your ERP.
You want someone who will walk you through step-by-step and add or remove modules as necessary to create your unique plan of attack.
An ERP system may have all of the bells and whistles, but do you need all of that?
Are you saving money by a bulk order?
You want an expert to customize your ERP to you, not the other way around.
You'll want to study and analyze your business to determine what your short and long-term goals are, as well as your pitfalls.
Here are some questions to get you started in the right direction:
What is your company's volume of transactions?
What are your customers' biggest frustrations?
What is your industry norm for floor production times?
Is your company using the most optimal equipment?
How can your company improve lead times?
What compliance standards is your company required to meet?
What is your organization's turnover rate?
Has your company conducted a detailed SWOT analysis?
What is your timeline for the project?
What is your budget?
Just as important as finding the right partner, having a solid internal team you can trust to run the software is also crucial.
While most ERP systems are implemented by project managers or consultants, much of the responsibility and duty is carried by the client—you.
You may be able to hire a consulting company to run your software for you, but this will add costs and time.
A better solution is to train your own internal team to handle the workload with your own resources.
In addition, by having your own employees participate in the implementation of the software, you're training and equipping them for end users.
There is added costs, time, and personnel required when implementing an ERP system.
You'll want to plan ahead and anticipate this so your business can thrive when the consulting firm steps aside.
Organized teams interface between consultants and team members better.
Without a properly structured implementation team, problems may arise.
Does your business need a customized ERP system?
We mentioned earlier, there are many ERP systems to choose from.
But not all are made the same or include features (modules) that your business needs.
One thing you don't need is more software.
The point of an ERP system is to eliminate the need for multiple software, combine it into one central system, and make your job easier, not harder.
If you have a company trying to up sell you on stuff you don't need, steer clear.
You want a partner who is open and responsive to your needs and goals.
Your business may only need a handful of modules to increase your productivity, cut costs, and streamline your processes.
Or you may need a hundred (that's a joke!).
The important is not how much help you need, but getting the right attention you desire.
The best decision you could make for your business is to allow an expert to guide you and help you implement your new system.
Don't change the program, change the process.
ERP training and preparing your company for it
There's training and then there's pre-training.
Both are equally important for your company and employees.
If you've never used an ERP system or you're switching between systems, or even consolidating, your end users will need guidance during the transition.
The more aware your employees are of the training to come and what it entails, the more receptive they'll be when the training comes.
Training also ensures everyone is on the same page and understands how this new ERP system will coexist with their normal day-to-day responsibilities.
Awareness and action are key.
Informing your employees in advance with a detailed breakdown of what is to be expected coupled with a follow-up intensive training will equip them with the tools they need to thrive.
Some third party companies will provide basic documentation and preliminary training, but anything after that is an additional cost and time.
It's better to train internally so you can run without outside resources—except when necessary to advance and grow beyond your current means.
Setting and sticking with your go-live date is of utmost importance to 1) implementing your new ERP software, but 2) having a successful launch.
ERP implementations take on average 14.3 months according to a study by Panorama Consulting.
And nearly 75% of those implementations plans exceeded the initial go-live date.
What does that tell you about the implementation process?
It means there's a lot of work involved, many moving parts, and sticking to your date is crucial.
Life happens.
Things come up that require you to put out the fires.
We understand.
But we also know without an established—and realistic—launch date, you're setting yourself up for more work, more costs, and the potential to never launch and reap the benefits.
There is nearly always a direct correlation between a company who sets pre-defined and realistic expectations and goals for their ERP implementation and reaching it.
An effective project plan will include not only detailed tasks & executions required to complete the implementation, but also supplemental dates, assignees, due dates, predecessors, completion percentages, and remarks sections.
Dates are important.
Plans to get there, with the right expectations, is even more important.
By nature, humans are followers and animals of habit.
We mimic the attributes of those around us that we find appealing or that fit with our own agenda and personal dilemmas.
This is equally true in the corporate world.
It's a bottom-down mentality that runs through both positive and negative veins.
The quickest way for an ERP system to fail, never be implemented effectively, and to increase costs is lack of buy in from the company and its employees.
Employees will follow their leaders either to the mountain top or the pit.
Which one do you want for your business?
To ensure your company succeeds during this often times stressful and turbulent transition, it's vital that all executives are onboard 100% with the implementation.
There can be no passive-aggressive remarks, outward refusal or rejection, or manipulative sabotage by any leader in the company.
If there is, they will hold your company back because their teams will mimic their attitude and outlook.
It's all about having the right people on your team, as we went over earlier.
If you have a team member that's holding your back from potential growth and development, get rid of them.
It's better to have like-minded individuals—of quality—than have the #1 developer in the world who resists change like the plague and recruits half the company to agree with his negative stance.
People are copycats.
We learn from our environment and the people around us.
What do you want to teach your employees?
By showing them a unified front with total, unwavering commitment to the system and plan, they will jump on board.
If they don't, you now know where your dead weight is and can offload it into the sea.
Effective change begins with the right attitude.
Success follows after.
How to approach ERP implementation the right way
The best way to approach implementing an ERP system is with a clear head.
This means knowing what you're getting yourself into, the time requirements, costs & training, and having realistic expectations for what it will entail.
In order to do this you must understand how to implement it.
You do not want to jump all in and implement every module in existence all at once.
This will overwhelm not only you but your employees and lead to delays, additional costs, and poor retention after training.
The best approach is by phases.
Say you want and need 50 modules.
But ten of them are the most pertinent and possess immediate positive ROIs.
You'll want to start with those first.
In addition, there may be modules that can be looped together that attack the same goal like increasing productivity of your services department and accounting.
Then implement the others gradually over time.
This will also ensure your go-live date doesn't fluctuate and continue to be pushed back.
It also prevents additional costs for implementing and retraining.
While having a longer implementation schedule appears to be more costly, it actually saves you more in the long haul by planning it in stages.
By implementing your ERP system in phases, you build the expertise and understanding of each of your employees and departments, which makes follow-up modules easier to implement and learn.
If you're only doing a few modules, knock them all out at the same time.
But if you're doing a more extensive and intensive re-haul of your company and bringing in multiple modules, a phased approach is ideal.
Conclusion
ERP software is an investment in time, money, and people, but brings with it a HUGE ROI if you do it right.
We'd like to help you determine if ERP is right for you and walk you through selecting the right modules and devise a plan-of-attack specific to you.
Take the first step and let us know more about your business.
https://www.abiscorp.com/wp-content/uploads/2021/08/ERP-Software.jpg
600
800
Derrick Schulte
http://www.abiscorp.com/wp-content/uploads/2022/12/ABIS-40-year-logo-FINAL-signature.png
Derrick Schulte
2021-08-13 18:59:36
2022-01-18 15:37:22
What is ERP? Everything You Need to Know in One Post.